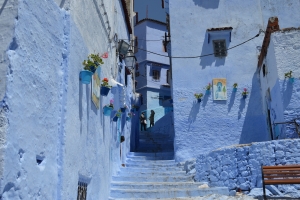 The sight of Morocco's 'blue city' is something to behold, and while you are here you simply have to experience it for yourself while on a private tour with Magnificent Morocco!
Hidden away in the Rif Mountains, the city was founded in 1471 by Moulay Ali Ben Moussa Ben Rachid El Alami. Its roots can be traced back to when it was originally a Moorish fortress, part of which still stands today. As the city grew as an important trading post between Tetouan and Fès and the hinterland of the Rif Mountains to the Mediterranean, so too did the population, going onto become home to Jewish and Christian converts alike.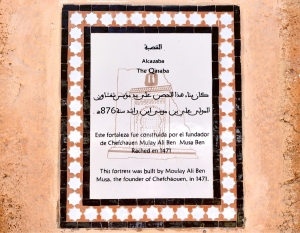 The name "Chefchaouen" refers to the shape of the mountains, which look like two horns of a Chaoua (Goat), the literal translation of the name is "Look at the horns".
Why is the city blue?
The buildings in the old town of Chefchaouen are a mix of Moorish and Spanish architecture, the blue colour is said to have been introduced by Jewish refugees in 1930, who thought that it was the perfect colour to symbolize heaven and earth. The blue colour certainly does match the clear blue sky on a cloudless day in Morocco!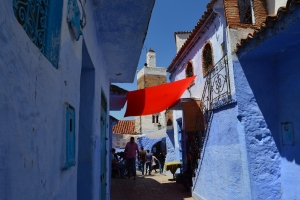 Although there is no definite explanation, it is thought that the colour choice was based on the Jewish tradition of dyeing thread with tekhelel (an ancient natural dye) and weaving it into prayer shawls. This practice was intended to remind people of god's power, and so by painting the city blue, the residents were always reminded of their god, and surrounded by their spirituality.
Today the population of the city is made up of Berber tribespeople, Muslims and Jews, together with the descendants of the Moorish exiles from Spain. In fact, many of the signs denoting street names (Calle and Avenida, for example) are shown in Spanish in the old quarters of the town.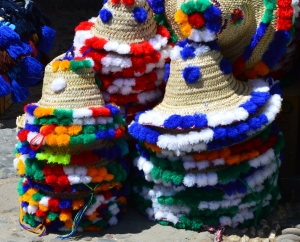 The Berber tribespeople are very distinctive in their traditional dress of cotton clothing with brightly decorated woven hats that are distinctive to this northern region of Morocco.
This breath-taking city is a must visit while you are staying in Morocco, so come and join us on one of our trips through the Rif Mountains and into Chefchaouen, to experience it for yourself!